Style:
Witbier
Appearance:
Light golden yellow in colour, thick mousse-like white head
Aroma:
Noticeable basil, hints of clove and peppercorns
Flavour:
Basil flavour prominent on the nose, making it a refreshing hot day beer. It finishes with a spicy, yet subtle tingling sensation on the tongue. Low to no bitterness.
Mouthfeel:
Creamy and smooth, lightly acidic and highly effervescent. The peppery aftertaste lingers on for some time.
Appetizers
Fried finger food such as fries, onion rings or fried chicken
Mains
Mild cheese based entrees
Desserts
Berry based or apricot based desserts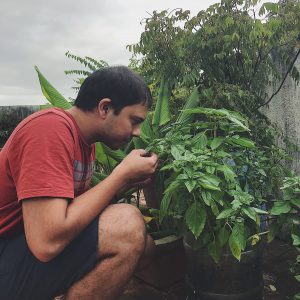 We always spend a good chunk of our Sunday tending to our terrace garden. This, after starting out as a hobby, soon became an obsession and a way to celebrate time with our parents. It became a ritual to tend to plants and then enjoy a hot cup of chai (with freshly plucked lemongrass)! Tea and conversations were abound from the evening to dinnertime! Many a conversation led to ideas about how to grow better vegetables, herbs and fruit.
Soon, the garden was producing an excess of herbs- Basil, Thyme, Sweet Marjoram, Peppermint, Spearmint, Parsley, Lemongrass, and Rosemary! Partha particularly became interested in the varieties of Basil. Soon we had Sweet Basil, Thai Basil, Italian Basil, Purple Basil and Indian Basil! We started making teas- and both of us, having a penchant for aromatics started to love the basil aroma's. We made pesto, air dried it and also tried to (unsuccessfully) extract oils to use in the diffuser!
It was going to be only a matter of time when Partha decided to use the basil in his beers! After spending a good deal of time to decide on what basil to use, what the ratios would be and how to use it- Partha finally narrowed down upon the Basil Peppercorn Witbier! Adding an element to balance the highly aromatic basil, we decided on using peppercorns to give the beer a complex peppery taste and a subtle aroma.