Style:
Stout
Appearance:
Dark, black in colour. Cream coloured thick sustained head
Aroma:
Chocolate, with hints of coffee
Flavour:
Sweetened espresso like, with prominent after taste of dark chocolate. Low bitterness, attributed to roasted barley.
Mouthfeel:
Creamy and smooth
Allergen Information:
Contains lactose
Appetizers
Spicy chilies inspired
Mains
Spicy Indian
Desserts
Chocolate based desserts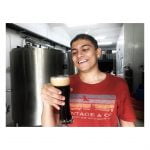 Our mother is not a beer drinker- in fact, she wasn't too pleased with the idea of us starting a microbrewery in the first place. Over time, she's come around to accepting that fact, yet she still isn't our biggest fan! 
The cream stout is Partha's way of wooing her into liking beer. She is big fan of coffees and dark chocolates. And this cream stout is just that- creamy, slightly sweet with hints of dark chocolate and coffee.